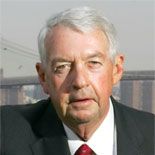 Hynes.
Photo: Courtesy of Brooklyn DA.
A Freedom of Information request by the Jewish Daily Forward asking for the names of 85 sexual-abuse suspects from the borough's Orthodox Jewish community has been rejected, the paper reported today. "The circumstances here are unique," said a letter from the office of Brooklyn D.A. Charles Hynes. "Because all of the requested defendant names relate to Hasidic men who are alleged to have committed sex crimes against Hasidic victims within a very tight-knit and insular Brooklyn community, there is a significant danger that the disclosure of the defendants' names would lead members of that community to discern the identities of the victims."
The names of fourteen people actually convicted of sex crimes were also withheld. What the D.A. didn't explain is what makes the Orthodox community different from other neighborhoods, where the identities of sexual criminals are part of the public record.
A law professor from Yeshiva University told the Forward, "When names of perpetrators are made public, their other victims are empowered to come forward and the whole community is given the power to identify and stop them and other predators. What the DA's office is doing, unfortunately, is playing right into the hands of the abusers."