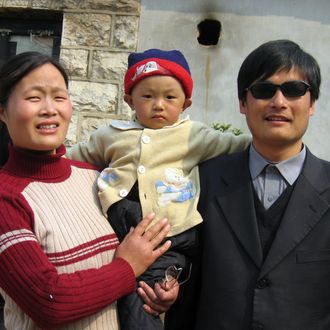 Chen Guangcheng (R).
Photo: STR/2010 AFP
Well known in China for his vocal opposition to government corruption, 40-year-old Chinese activist Chen Guangcheng fled house arrest last week and remains missing, although there's speculation that he's taken refuge at the U.S. Embassy in Beijing. CBS News reports that Chinese and U.S. diplomats are now believed to be bargaining over Chen's fate, only a day ahead of Secretary of State Hillary Clinton's and Treasury Secretary Timothy Geithner's scheduled visit to China for an annual Strategic and Economic Dialogue, a ranging forum for policy discourse between the two nations. Kurt M. Campbell, an assistant secretary of state, flew to China on Sunday to meet with officials on the matter.

Chen, who is blind and, until he was 20, illiterate, is a self-taught lawyer. The Washington Post writes of Chen's most famous case:
Chen's case is the most notorious blot on the Communist Party's heavily stained human rights record. In 2005, after Chen exposed horrific cases of forced abortions stemming from China's one-child policy, he was placed under house arrest for six months. Chen had the temerity to file a class-action lawsuit on behalf of the victims of this "family planning" barbarism. That's not something one does in a one-party state.
Chen released a video this past weekend with a plea to Premier Wen Jiabao to protect Chen's family members, who were left behind after his escape. Chen and his family have suffered severe beatings at the hands of police officers and others enforcing his house arrest. The house arrest follows his four years in prison for destroying property and assembling a crowd to disrupt traffic, which some say were bogus charges. Chen may have timed his escape to coincide with the upcoming international talks. "You must see to the bottom of this," Chen said in the video. "Even though I am free, my family … are still in their grasp. While I was there, they were repeatedly harmed. Now that I'm gone, I can only imagine how it has blown up."
"They're trying to figure out what they're going to tell Hillary Clinton," said a senior American official of China's leadership, which reportedly met on Sunday to plan a response about Chen's escape. "We'd like to know as much as we can before she leaves."
The Obama administration has been quiet so far on the case that's captured growing international attention, but on Fox News Sunday, Obama's top counterterrorism adviser, John Brennan fielded a question about U.S.'s involvement. "I think, in all instances, the president tries to balance our commitment to human rights, making sure that the people throughout the world have the ability to express themselves freely and openly," Brennan said, "but also that we can continue to carry out our relationships with key countries overseas."