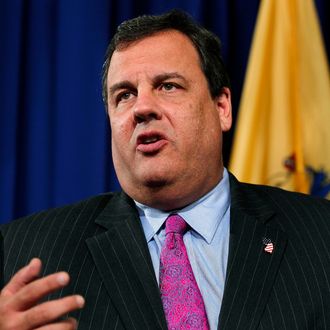 Bruuucceeeee!
Photo: Jeff Zelevansky/2011 Getty Images
New Jersey governor Chris Christie has made no secret of his deep love for his state's most iconic musician. In 2009, Republican Christie asked the famously liberal Springsteen to play his inauguration; he'd seen 122 Springsteen shows and wanted number 123 to be in his honor. The Boss, who's done plenty of appearances for Barack Obama and other leading Democratic lights, told him he "doesn't get involved in state politics." But Christie didn't take it too personally. Not only did he hire the "B Street Band," a Springsteen cover outfit, for the occasion instead, he got up and sang along to "Badlands," "Glory Days," and "Born to Run."
In the ensuing years, he's been to a few more concerts. In fact, this week at Madison Square Garden marked at least number 128. But it's hard loving someone who doesn't love you back. Or maybe 128 times is just too many for something to remain interesting: Christie nodded off during the show, a full-on snooze observed by a "Page Six" tipster who took a picture of the governor with his head resting gently in his hand.
"The governor was very active during the show," said a spy. "Bruce started talking about 'supporting food banks in New York and New Jersey,' and 'how people have been hit hard,' and Christie was riveted. Then Bruce performed 'Rocky Ground,' and Christie visibly started fading."
So suffice it to say, Christie's not a fan of the Boss's new stuff. If you think about it, it's a conservative approach to Springsteen fandom: Just play the good old-fashioned stuff. The hits, man!