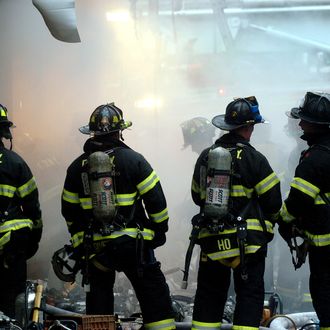 (Debbie Egan-Chin/NY Daily News Archive via Getty Images)
Photo: New York Daily News Archive/2006/Daily News, L.P. (New York)
Last Friday, a state Supreme Court ordered City Hall to release what's been dubbed the "911 CPR" report, chronicling the supposedly moribund state of the city's emergency response system, on which it has spent more than $2 billion. While a quick appeal from city lawyers has stayed the order, it only reinforces what appear to be top-level efforts to squash the report and its findings, including that response times have actually been slowing. As the Post reports, "after learning of the report's ugly conclusions, City Hall ordered everyone familiar with the document to shut up," and even stamped whatever copies existed as "Draft" so they wouldn't have to release them. Already, some reshuffling has been detected at One Police Plaza. But if things are really as bad as all that — one source described the revelations as "nuclear" — the fallout from this will likely ripple even higher.
Though the city is turning out the lawyers and paper pushers to bury this thing, it was actually Mayor Michael Bloomberg who commissioned the report from a D.C. consulting company in the wake of the Snowmageddon fiasco a year ago and in January marked the completion of the 911 call center overhaul.
It's possible, of course, that some of the problems the report notes — such as a $15 million cost to interface new but still incompatible NYPD and FDNY dispatch systems — were already ironed out by the January launch date. But some of the complaints, it seems, are more about management than technology.
Despite a series of reports showing that it would be more efficient for City Hall to exert direct control over emergency communications — because of incessant brawling between the NYPD and FDNY — the mayor's office is still ducking responsibility.
The Post adds that Bloomberg and his deputies were loath to push into what was perceived as Police Commissioner Ray Kelly's domain; after all, it is the police who oversee much of the 911 response system.
The official line on all this, of course, is that the city's new technological upgrades will get the job done, fielding 11 million calls a year "effectively," as one City Hall spokesperson put it. But until the city releases the report or at least detailed data on 911 response times, questions will persist. And as an unnamed source who's seen the report told the Post, "Seconds count in emergencies. People are going to die."