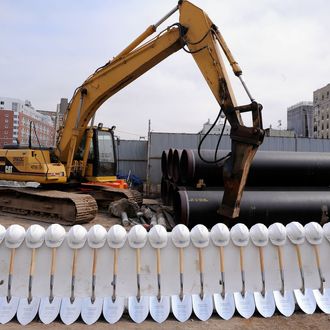 Photo: Jemal Countess/2010 Getty Images
A New York State Appellate Court panel has ruled that the state agency overseeing the controversial Atlantic Yards project in Brooklyn misled the public when it said the work would be completed within ten years.
The court took the Empire State Development Corp. (ESDC) to task for making undue assumptions about how long it will take to finish Phase II of the giant project, which will build out eleven skyscrapers, after the new arena for the Brooklyn Nets is completed and three to five towers are constructed around it.
 
The ESDC's "use of a ten-year build date under these circumstances lacks a rational basis and is arbitrary and capricious," the court said on Thursday. 
What does it mean? Well, construction of the Barclays Center will continue, and developer Forest City Ratner still aims to start the first tower, which will include subsidized housing, after the arena opens in September. But residents who are worried about decades of disruptive construction in the neighborhood will have their concerns taken more seriously, and a Supplemental Environmental Impact Statement (SEIS) will be completed.
 
The ruling also backs community claims that there was something fishy about how the state agency went to bat for Forest City Ratner's $4.9 billion project. When the state chose not to study the environmental impact of an extended 25-year buildout in 2009, it helped Forest City meet a crucial deadline and save more than $100 million on tax-exempt bonds.
 
"The fact is that the project should never have been approved at all — it is entirely illegitimate," said Candace Carponter, legal director of Develop Don't Destroy Brooklyn. "The tragedy here is, but for the blatant misrepresentations to the Court by Forest City Ratner and ESDC, it would been determined in 2010 that an SEIS was required and that would have stopped construction of Barclays Arena."
 
The ESDC essentially argued that ten years of concentrated construction was worse than a much longer period of less intense construction in terms of the impact on the neighborhood. Residents have scoffed at that argument, and the Appellate Court agreed with them in its ruling. It said the state agency "failed to consider an alternative scenario in which years go by before any Phase II construction is commenced — a scenario in which area residents must tolerate vacant lots, above-ground arena parking, and Phase II construction staging for decades."
 
Forest City Ratner said in a statement that it is "disappointed" with the decision, but it "does not affect the first phase of the project and we remain on track to open the world class Barclays Center arena in September and moving [sic] forward with construction of the first residential building." 
Brooklyn journalist Norman Oder is the author of the Atlantic Yards Report.