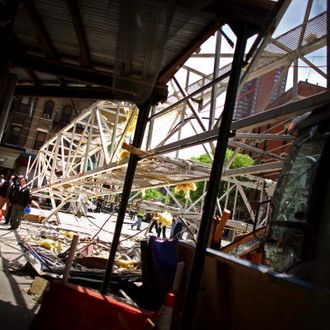 Wreckage from the 2008 incident at East 91st Street.
A large crane crashed down at a construction site for the extension of the No. 7  subway line Tuesday night, killing a 30-year-old worker and injuring four more people, including a crane operator, a flag man, and a relative of one of the victims. The New York Times reports that a 170-foot "boom" collapsed around 7:30 p.m. Tuesday night; the Daily News writes that two large pieces of the the crane, one 80 feet long, the other 40 feet, dislodged and crashed down at the site at 34th Street between Tenth and Eleventh Avenues.
The cause of the collapse is not yet known, but officials are investigating an issue with the rear of the crane. Fire Chief William Seelig said that the department was told that a cable had snapped.
"On behalf of the entire M.T.A., we pray for the recovery of the workers injured as a result of this tragic accident tonight," the Metropolitan Transportation Authority said in a statement. "We will work together with all proper authorities to conduct a thorough investigation on the circumstances behind this unfortunate incident."
In 2008, two separate crane accidents on Manhattan's East Side, one at East 91st Street, the other at 51st Street between First and Second Avenues, killed a total of nine people.