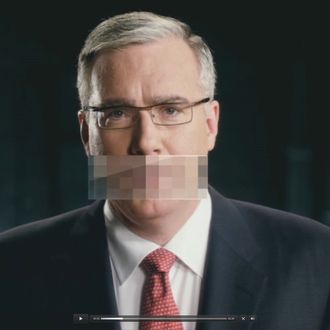 At this point it's pretty clear that Keith Olbermann was not a boon for the fledgling network Current TV, founded seven years ago by Al Gore and Joel Hyatt. After firing their marquee blowhard, the channel is taking his public punches, which include Olbermann telling Cindy Adams that "they're running out of money. Behind in their bills." But Reuters reports that Gore and company have bigger problems than bad-mouthing: Time Warner could drop Current for low ratings. 
"Time Warner Cable has been flirting with the idea of pulling Current off its systems for some time now," an anonymous source told Reuters media reporter Peter Lauria. The network apparently has an audience requirement in its carriage deal, and if it doesn't meet a minimum number of viewers, Current is on the hook financially. If they dip below the line for two quarters in a row, Time Warner can boot them.
Olbermann was bringing in about 177,000 people per night, whereas the first show from his replacement, Eliot Spitzer, had just 47,000 viewers. A Current representative insisted, "We are fully in compliance with our Time Warner Cable contract and all indications show that even with Keith leaving we will continue to be in compliance." Let's hope they're right, because imagine Olbermann's gloating otherwise.