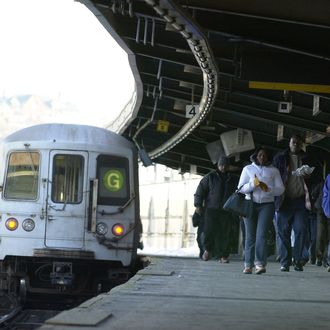 Photo: Todd Maisel/NY Daily News Archive via Getty Images
There's already a lot of anecdotal evidence to suggest that ending the G train's five-stop extension into South Brooklyn (which was put in place two years ago to accommodate the soon-to-be-finished Culver Viaduct construction) will cause all kinds of horrible problems. Now we have numbers to back up the idea that (semi-) reliable intra-Brooklyn transit options are something to be preserved, not destroyed. 
More than 4,700 additional riders used the Church Avenue, Seventh Avenue–Ninth Street, and Fourth Avenue–Ninth Street stations on average weekdays in 2011 compared to 2008 — the year before the Metropolitan Transportation Authority extended the G line past its recent terminus at Smith–Ninth Street, bringing the Brooklyn Local to Park Slope, Windsor Terrace, and Kensington.

Weekday transit use increased 17.3 percent at the G and F train stations at Seventh Avenue–Ninth Street, 15.7 percent at the Fourth Avenue–Ninth Street, and 12.4 percent at the Church Avenue since 2008, according to MTA ridership figures released last week.

Meanwhile at the Ditmas Avenue F train station — the stop after Church Avenue and the first station along the viaduct not serviced by the G train — ridership decreased 3.8 percent.
As Public Advocate Bill de Blasio put it, "If it ain't broke, don't fix it." This is probably the first time in history that anyone has ever used that phrase in reference to the G train, which should really tell you something.