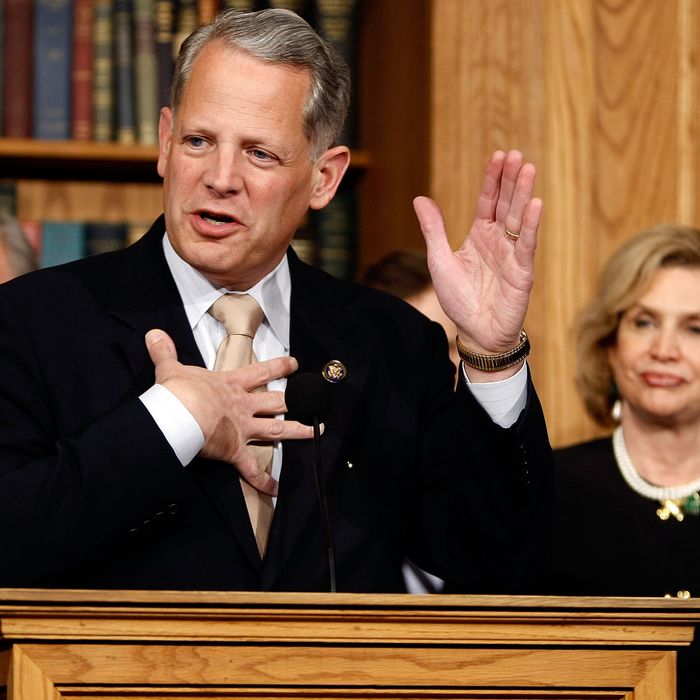 Rep. Steve Israel (D-NY), Chairman of the DCCC.
Photo: Chip Somodevilla/2009 Getty Images
The Democratic Congressional Campaign Committee will reportedly pump more than $32 million worth of ads into fourteen states this fall, with the goal of winning back the House. The ad bomb will hit TV airwaves after Labor Day, mainly in presidential battleground states including Florida, Pennsylvania, and Colorado. Specifically, the DCCC is targeting the districts of 26 Republican incumbents, seven Democratic incumbents, and three open seats, in hopes of netting a necessary 25 total seats to regain control.
"The DCCC IE's early, aggressive and strategic media reservation puts House Republicans on notice — Democrats are on offense and positioned to win,"  Jennifer Crider, the DCCC's deputy executive director, told Politico.
Politico reports:
A strategist familiar with the buy said that with presidential candidates, outside interest groups and well-funded super PACs poised to unleash an unprecedented flood of ads, the committee wanted to lock in TV advertising early, before inventory is bought out and rates become more expensive. Operatives from both parties say they expect ad prices to skyrocket by summer.
The complete chart shows the entire cash distribution for the television ads. The DCCC has allocated nearly $2.5 million toward congressional districts 3 and 6 in the Denver market, and more than $3.5 million toward four districts in the Philadelphia market. New Jersey's revamped third congressional district will receive part of that allotment. There, Democrat Shelley Adler has vowed to defeat incumbent Jon Runyan, a former offensive tackle for the Philadelphia Eagles.

House Republicans will at some point meet ad money with ad money. 'Tis the season.
Earlier: The Coming Tsunami of Slime [NYM]