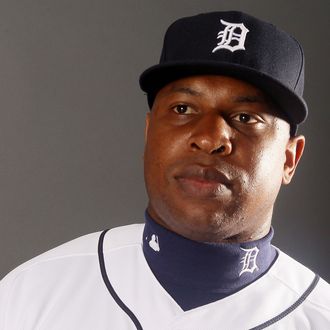 Delmon Young.
Photo: Elsa/Getty Images
In town for a series against the Yankees, Detroit Tigers outfielder Delmon Young spent last night engaging in some unconventional tourist activities: getting wasted, finding perhaps the city's only yarmulke-wearing beggar, yelling anti-Semitic obscenities at him, and then getting into a fight with some non-Jewish bystanders. Here, we'll just let the Daily News explain it:
Investigators believe [Jason] Shank and three friends were returning to their hotel from a night out when they were approached by a panhandler wearing a yarmulke and a Star of David, sources said.

The foursome gave the panhandler some cash before turning toward the Hilton — where they brushed past a visibly drunk Young.

The ballplayer shouted "F—king Jew" at the panhandler, but Shank and his friends thought Young was talking to them, sources said.

The four men, none of whom are Jewish, then turned to confront the ballplayer, and Young and Shank briefly shoved each other, sources said.
The police showed up, arrested Young, and charged him with a misdemeanor "aggravated harassment hate crime." And Shank? Kind of a hero if you ask us. If this incident is interpreted in the most flattering light, Shank fought a belligerent six-foot-three, 240-pound athlete over some anti-Semitic slurs — and he's not even Jewish! And he gave money to the Jewish panhandler! Well that does it, we're going to nominate Shank as an honorary Jew at the next meeting of the Elders of Zion.