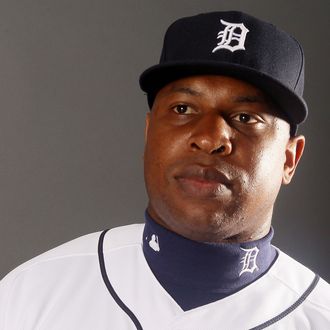 Delmon Young.
Photo: Elsa/Getty Images
Outfielder Delmon Young, who was arrested on Thursday night in Manhattan after his anti-Semitic freakout resulted in a physical fight with a group of non-Jewish tourists, has been taken off the Detroit Tigers' active roster and placed on Major League Baseball's restricted list. Young, who was in town for a series against the Yankees, won't be able to play until at least next week, once his "legal options are made clear." (The Tigers will also have him evaluated by a psychologist.) The 26-year-old was reportedly so drunk during the incident — which involved shouting "fucking Jews" at a group of bachelor party attendees giving money to a yarmulke-wearing panhandler, and then attacking one of them — that he had to be hospitalized after he was arrested. He's been charged with a misdemeanor hate crime by the Manhattan D.A., which has the potential to jeopardize his career. 
Young's arrest was an alcohol-related offense and the MLB's basic agreement rules call for players involved in such matters to be referred to the MLB's Employee Assistance Program. The Tigers reportedly referred to that provision in their statement on Young's arrest Friday.

But, because of hate-crimes language initiated following Braves pitcher John Rocker's racist, homophobic remarks to Sports Illustrated in 2000, Young's entire $6.7 million contract can be voided if he's found to have violated the basic agreement, The Detroit News says.
Right now, Young is out on $5,000 bail. In a statement, he said, "I sincerely regret what happened. I take this matter very seriously and assure everyone that I will do everything I can to improve myself as a person and player." Meanwhile, the man Young shoved to the ground, Jason Shank, told the New York Post he'll be rooting for the Yankees today.