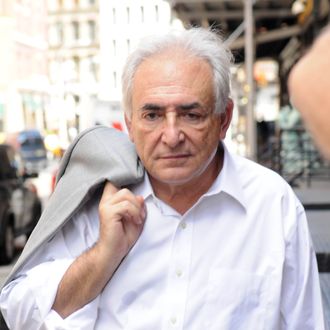 Photo: J.B Nicholas / Splash News/? www.splashnews.com
Late last year the New York Review of Books published a conspiratorial version of the events that left former IMF chief and French presidential front-runner Dominique Strauss-Kahn charged with rape, his political plans dashed. The reported account of the incident involving Sofitel hotel maid Nafissatou Diallo, written by Edward Jay Epstein, suggested that French President ‪Nicolas‬ Sarkozy's UMP party may have set up their potential political opponent based on a few curious, but far from damning details. Now Epstein is back with an e-book on the subject, due for release next week, along with an interview with Strauss-Kahn today in the Guardian. Unsurprisingly, the disgraced Frenchman agrees that he was the victim of dirty tricks.
Although both stop short of claiming the whole thing was a trap, Epstein writes that Strauss-Kahn "is convinced that his downfall was choreographed by his political enemies" who "[made] sure that the hotel maid went to the police and thus turned a private tryst into a public scandal." Strauss-Kahn is quoted as saying, "Perhaps I was politically naive but I simply did not believe that they would go that far … I didn't think they could find anything that could stop me."
Details are pretty scarce (buy the book?), but as Epstein writes in the Guardian, "Strauss-Kahn says there is considerable evidence that he had been under surveillance in the days immediately before his stay at the Sofitel and that the unfolding drama there had been orchestrated in such a way as to derail his presidential ambitions."
For one, as also laid out in the NYRB article, the security staff at the hotel may have minor, tangential connections to the Sarkozy government. According to Epstein's original account, two employees were seen doing "what looks like an extraordinary dance of celebration that lasts for three minutes" while Diallo was being questioned, but a correction clarified later that the so-called celebration "lasted approximately thirteen seconds." The men involved said they were probably talking about sports.
Strauss-Kahn continues to insist his sexual encounter with Diallo was consensual, but with Epstein's help, again hints at a conspiracy with claims like, "I am certain that she had no cleaning equipment, there was no cleaning cart." While some evidence does seem to indicate that Strauss-Kahn may have been under surveillance by rivals, the connections to Diallo's sexual-abuse allegations are far more tenuous. Of course, the rape charges were dropped regardless, although they were enough to derail his political ambitions. (A judge will decide next week whether Diallo's civil case can proceed.)
Strauss-Kahn, meanwhile, still faces "aggravated pimping" charges in a separate prostitution case back home, so if he and Epstein are somehow right about his enemies' plotting, the man's weakness was no secret.