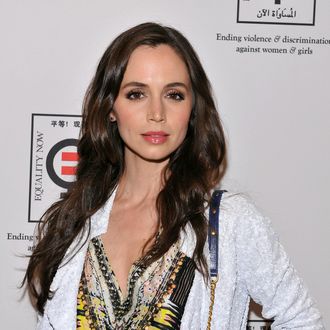 Eliza Dushku.
Photo: Fernando Leon/Getty Images
At Equality Now's

twentieth anniversary

dinner last night at the Asia Society, Daily Intel caught up with actress

Eliza Dushku

to talk Mormonism and Mitt Romney. Romney served as Dushku's bishop when she was growing

up, although she doesn't consider herself to be "very Mormon" anymore — she started distancing herself from the church as a teenager.

"My problems with the church have to do with its stance on homosexuality, and other things," she told

 

us.
Among those "other things": Women's rights, a subject which frequently pitted Dushku's mother, Judy Dushku, against Romney. Consequently, Dushku's history with Romney is a bit complicated. "I mean, he went from being my first crush at six years old — I named my Ken dolls 'Mitt' — and then when I was old enough to hear what was coming out of his mouth, it was over," Dushku recalls. "I'm sure he's a nice guy. I knew him to be a nice person, to those around him. He had five sons that I knew, that my brothers would play with growing up, and they were kind to others. But what they stand for I don't find to be tolerant or just."
It's fair to say that Dushku probably won't be stumping for Romney on the campaign trail this year.