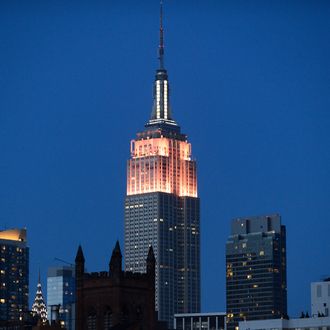 The Empire State Building last night, when it was still #1.
Photo: DON EMMERT/AFP/GettyImages
With all the focus today on 1 World Trade Center, once again the tallest skyscraper in New York, we grew worried that the former record-holder, the Empire State Building, might be suffering from an inferiority complex. So we trekked to midtown, half-expecting to find the landmark building's employees cursing the sleek young thing downtown.
It turns out the Empire State Building's staff weren't in a chatty mood. Both a woman at the front desk and a woman who directs visitors to the elevator told us that they were specifically told not to talk to the media about the subject today.
Nevertheless, we found one employee who was willing to sing the praises of  the city's second-tallest structure.
 "I love working here, it doesn't stop me," the Empire State Building's doorman told us. 
 Still, he wasn't even a little bit jealous of 1 World Trade Center? 
 "No, not in the least," he laughed. "It's still the greatest building in the world, you can count on it."