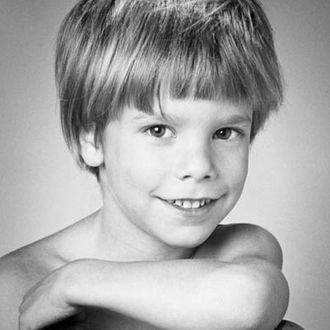 The FBI and NYPD again crowded 127 Prince Street at the corner of Wooster today in the renewed search for clues in the case of Etan Patz, the 6-year-old who went missing in 1979 and was never found. Cadaver-sniffing dogs reportedly picked up a scent recently in a Soho basement not far from the Patz family home, but an FBI spokesman has called that "one lead of many." Longtime prime suspect Jose Ramos, currently in jail on separate child-molestation charges, reportedly frequented the then-workshop used by neighborhood handyman Othneil Miller, who occasionally paid Etan for chores.
"What's being done right now is they're starting a very controlled and precise digging operation," said NYPD Commissioner Ray Kelly today. "They're actually starting at the back wall." The work is expected to take up to five days, and the torn-up concrete will also undergo forensic testing.
"Mr. Miller has been cooperating with this investigation for over 30 years and he has continued to cooperate on multiple occasions and I'm going to assist him in cooperating to the fullest extent possible," Miller's lawyer said today. Ramos, who knew a babysitter of Etan's and once admitted to spending time with the boy the day he disappeared, is serving a twenty-year sentence in Pennsylvania, but could be released in November. "His pending freedom is one of the factors that has given new urgency to the case," the Post reports.
Meanwhile, a sign near the Patz home today read, "To all hard-working and patient MEDIA PEOPLE: The answer to all your questions at this time is 'No Comment."
Related: What Happened to Etan Patz [NYM]