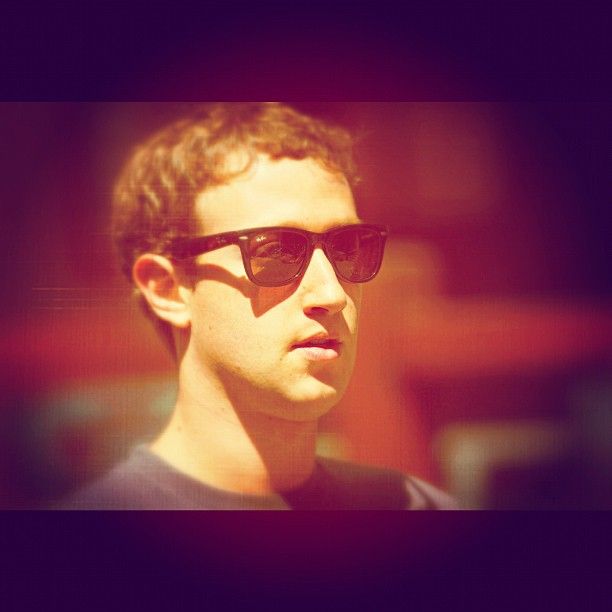 Photo: Photo: Scott Olson/Getty Images
Facebook, a company with a potential market cap worth five or six moon landings, is spending one of its many billions of dollars to buy Instagram, a tiny company dedicated to helping Thai beauty queens share photos of their fingernails. Many people have critical opinions on this subject, ranging from "this will ruin Instagram" to "$1 billion is too much." And for many Instagram users it's discomfiting to see a giant company they distrust purchase a tiny company they adore — like if Coldplay acquired Dirty Projectors, or a Gang of Four reunion was sponsored by Foxconn.
So what's going on here?
First, to understand this deal it's important to understand Facebook. Unfortunately everything about Facebook defies logic. In terms of user experience (insider jargon: "UX"), Facebook is like an NYPD police van crashing into an IKEA, forever — a chaotic mess of products designed to burrow into every facet of your life. The company is also technologically weird. For example, much of the code that runs the site is written in a horrible computer language called PHP, which stands for nothing you care about. Millions of websites are built with PHP, because it works and it's cheap to run, but PHP is a programming language like scrapple is a meat. Imagine eating two pounds of scrapple every day for the rest of your life — that's what Facebook does, programming-wise. Which is just to say that Facebook has its own way of doing things that looks very suspect from the outside world — but man, does it work.
Now consider Instagram. If Facebook is a sprawling, intertextual garden of forking pokes, Instagram is no more complex than a chapbook of poetry: It lets you share pictures with your friends and keep track of strangers who post interesting pictures. It barely has a website; all the action happens on mobile devices. Thirty million people use it to pass time in the bathroom. You can add some fairly silly filters to the photos to make the pictures look like they were taken in the seventies, but that's more of a novelty than a requirement. So that's Instagram. It's not a site, or an app. What it is, really, is a product.
It used to be that web people "published websites" — like the site you're reading now. But today people who work on the web "manage products." I'm not sure when that changed, but clearly a memo went around. At one time, in the nineties, everyone was a "webmaster," then for a while they were "site editors" or "site managers" and now they're "product managers." A website — even one as simple as Twitter — is no longer a singular thing; it's a multitude of things from all over the place.
See what happened? On the web, "product" has gone meta. Companies once made sleds or dreamcatchers or software, but that's all outsourced; an Internet product is very often a thing that lets other people make things — a kind of metaproduct — and you can get 30 million people working for you, for free, if you do a good job of it.
Facebook, for example, is dozens of these products at once — chat, walls, feeds, calendars, and so forth. Thousands of people work on building these products — including plenty of product managers (they're looking to hire even more). All of those products together are worth some billions. But that's only if you take them together. And if you take them separately, there's an awful lot of them — even if you don't include all the Mafia Wars plugins and Scrabble ripoffs. From a certain angle, Facebook runs the risk of becoming like Apple before Steve Jobs returned — too many products, each with teams sworn to defend them.
Then along comes Instagram. Instagram has as many employees as you can count on your fingers (if you have polydactyly) and does a sum total of one thing. It's beloved and hip, two things Facebook is not, and plus the company is pure nerd candy. It uses open-source software named after a jazz musician (Django!); uses the language Python, which is as beloved as PHP is loathed; and posts about its technical exploits over on Tumblr (which, fun fact, recently announced its 20 billionth blog post — on Twitter). Instagram does everything "right," for a value of right that matters to nerds, and it does it with one product. When it needs to add a million users in a day — as it did with the release of its application for Android — it just brings up a ton of fresh web servers and keeps on trucking. And that's how stuff goes now, in the cloud. If you need a thousand web servers tomorrow I can get them for you, no problem.
Remember what the iPod was to Apple? That's how Instagram might look to Facebook: an artfully designed product that does one thing perfectly. Sure, you might say, but Instagram doesn't have any revenue. Have you ever run an ad on Facebook? The ad manager is a revelation — as perfectly organized and tidy as the rest of Facebook is sprawling and messy. Spend $50 and try to sell something — there it is, UX at its most organized and majestic, a key to all of the other products at once.
To some users, this looks like a sellout. And that's because it is. You might think the people crabbing about how Instagram is going to suck now are just being naïve, but I don't think that's true. Small product companies put forth that the user is a sacred being, and that community is all-important. That the money to pay for the service comes from venture capital, which seeks a specific return on investment over a period of time, is between the company and the venture capitalists; the relationship between the user and the product is holy, or is supposed to be.
So if you're an Instagram user, you've been picking up on all of the cues about how important you are, how valuable you are to Instagram. Then along comes Facebook, the great alien presence that just hovers over our cities, year after year, as we wait and fear. You turn on the television and there it is, right above the Empire State Building, humming. And now a hole has opened up on its base and it has dumped a billion dollars into a public square — which turned out to not be public, but actually belongs to a few suddenly-very-rich dudes. You can't blame users for becoming hooting primates when a giant spaceship dumps a billion dollars out of its money hole. It's like the monolith in the movie 2001 appeared filled with candy and a sign on the front that said "NO CANDY FOR YOU."
When people write critically about Facebook, they often say that "you are the product being sold," but I think that by now we all get that. The digital substance of our friendships belongs to these companies, and they are loath to share it with others. So we build our little content farms within, friending and upthumbing, learning to accept that our new landlords are people who grew up on Power Rangers. This is, after all, the way of our new product-based civilization — in order to participate as a citizen of the social web, you must yourself manufacture content. Progress requires that forms must be filled. Thus it is a critical choice of any adult as to where they will perform their free labor. Tens of millions of people made a decision to spend their time with the simple, mobile photo-sharing application that was not Facebook because they liked its subtle interface and little filters. And so Facebook bought the thing that is hardest to fake. It bought sincerity.