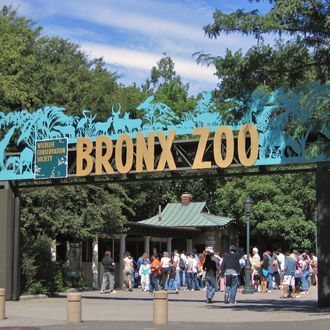 At around 12:30 p.m. Sunday afternoon, a van carrying three generations of a single family crashed into woods just south of the Bronx Zoo after driving off an overpass on the Bronx River Parkway. Police and fire department officials say the vehicle carrying the Bronx family was traveling at about 70 miles per hour when it hit the Parkway's median and flew across all lanes of traffic, before mounting the edge railing and falling roughly 60 feet. 
All seven occupants of the 2004 Honda Pilot died in the accident — four adults (one male, three female) and three children, girls aged 10, 7 and 3 years old. The vehicle's driver has been identified as 45-year-old Maria Gonzalez, a maintenance worker at Fordham University. Gonzalez's parents were killed in the wreck as well as her sister, 39-year-old Maria Nunez; two of Nunez's girls; and Gonzalez's 10-year-old daughter.
A source described the scene to the Post as, "terrible, just carnage … the passengers didn't stand a chance." However, with the van landing in an area of the Zoo's woodland off limits to the public, there were no fatalities on the ground — either human or animal.
"The injuries were quite horrific," said Howard Sickles, a deputy chief with the city's EMS. "In 30 years, I've seen something like this once or twice. Everybody was taken aback by it … it's very upsetting."
Surviving members of the family are shocked and in shambles. 
"I don't want to live anymore. I'm destroyed," said Juan Gonzalez, husband of Maria Gonzalez and father of their 10-year-old who also lost her life. "I don't want to be alive."
This post has been updated throughout.