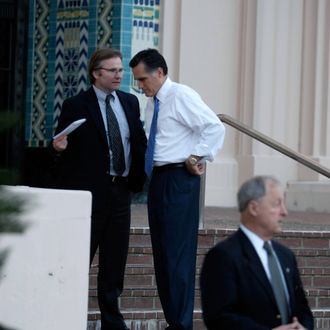 Fehrnstrom and Romney.
Photo: Joe Raedle/Getty Images
Republican political consultant Eric Fehrnstrom, of Etch A Sketch fame, has two main clients. First and foremost, he's a senior adviser to Mitt Romney, who has refused to release more than two years of tax returns despite near-constant pressure from the Obama campaign. Ferhnstrom, not surprisingly, has defended that decision. 
"Look, we know that there's going to be an extraordinary effort by the Obama campaign to distract from the bad economy," he told Chuck Todd earlier this month. "I gotta tell you, they got more sideshows than PT Barnum's traveling circus." Romney himself recently told Diane Sawyer that the only reason the Obama campaign wants those tax returns is to "try and make this campaign about the fact that I've been successful, that I've made a lot of money. So he wants to be able to get all the details on each year and how much money I made this year and that year."
Fehrnstrom is also the chief media strategist to Massachusetts senator Scott Brown, who announced today that he'll release six years of tax returns, and challenged Elizabeth Warren — who had suggested that each candidate release a measly two years of returns — to do the same.
Republican US Senator Scott Brown plans to publicly release six years worth of personal tax returns later this week, his campaign said today in a letter that puts pressure on challenger Elizabeth Warren to do the same.

Brown's campaign manager, Jim Barnett, sent the letter to Warren this morning, saying Brown will release his returns on Friday. Warren had not responded as of 11:30 a.m.

Warren, a Democrat, has previously said she would release two years of returns if Brown did the same. She said that period spanned the time she had served in the Obama administration and been a political candidate, as well as Brown's tenure in the Senate.
Why would Brown's campaign do such a thing? Presumably they are also trying to shame Warren for being successful?
"The tax years you are attempting to conceal contain important and potentially revealing information, including income you received for outside legal work, such as when you assisted Travelers Insurance in a case against victims of asbestos poisoning," Barnett wrote.
Well look at that — apparently tax returns can contain "important and potentially revealing information" after all!
So: Why are two years of tax returns sufficient for presidential candidate Romney, but not for senate candidate Warren? Why is demanding additional years of tax returns from one's opponent a Barnum-esque sideshow when the Obama campaign does it, and a reasonable request for transparency when the Brown campaign does it? Speaking of circuses, we're about to find out how skilled Ferhstorm is in the art of tightrope walking.