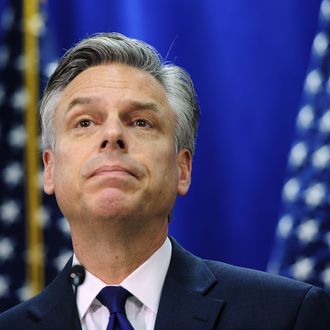 Money money money.
Photo: Emmanuel Dunand/AFP/Getty Images
A little over three months after Jon Huntsman bowed out of the GOP race, a number of staffers, consultants, and vendors for the former candidate's campaign remain unpaid. According to Politico, some of the people waiting on checks are even considering legal action.
"I'm concerned that, as an outstanding vendor owed money from the presidential campaign, we have received no written or oral correspondence to any effect, mapping out or detailing any sort of payment plan or projections," former Huntsman national finance consultant Jim McCray told Politico.

Outstanding debts to vendors for expenses like the rental of Liberty State Park tally about $1.4 million. Huntsman also owes significant sums to some former staff. There's also a nearly $356,000 tab for Strategic Perception Inc., a political ad-maker run by Fred Davis.
Abby Huntsman Livingston, one of Huntsman's daughters, now his spokeswoman, is not so concerned about the yet-to-be-paid invoices.

"All staff payroll, expenses and many consultants have received payment. We will continue to aggressively pay down the remaining debt," she said. "We are also reviewing invoices to confirm the amounts billed accurately reflect the work done."
Huntsman has opened his own wallet to pay down some of the campaign debt already, but according to a Politico source, some of the folks waiting are kind of shocked they have to wait at all, considering the Huntsman family's substantial wealth. The whole thing is a pretty miserable calculation for Huntsman because, in the end, his total expenses divided by two equals cost per delegate.