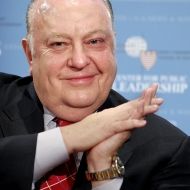 Fox News boss Roger Ailes.
Joe Muto, the former Fox News producer who spent his last 24 hours at the company sneaking insider dispatches to Gawker, is now under investigation. "I just got search warranted at 6:30am by a very polite crew from the DA's office," Muto tweeted this morning. "Took my iPhone, laptop, some old notebooks." According to the Mole, Fox News is accusing him of grand larceny and more. "They're pretty worked up over a clip of Romney talking about his horses," wrote a still not-shy Muto of the behind-the-scenes video he published online. Unable to resist one more dig at his former employer, Muto added, "I should have done something more innocuous, like hacked a dead girl's phone and interfered with a police investigation." Hopefully his $5,000 payment also comes with lawyer fees.
Update: There's a copy of the warrant here.
Gawker Media COO Gaby Darbyshire also told Poynter "we will be providing [Muto] with legal support," and noted that the company doesn't expect to be served. "The appropriate way to demand any information they want in this matter is by issuing us a subpoena, not raiding our offices," she said. "But then again, who knows? Fox might be able to persuade them to do it anyway."