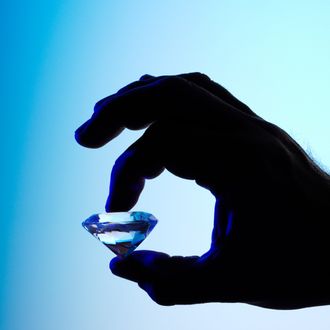 As recently as Monday afternoon, Forrest Hills gem dealer Kurt Kaiser (possibly his real name) was in possession of a briefcase containing 290 carats, or $500,000 worth, of uninsured diamonds. Today, he has nothing but what is apparently an extreme desire to get those diamonds back — so much so that he was willing to bring his colorful explanation for the loss of the 45 stones to the Post, which ran it as an "exclusive" this morning. It seems Kaiser was spending Monday night at Central Park South's Whiskey Park — "despondently" knocking back vodka and sodas after a failed bid to unload his wares — when he was approached by a "sexy brunette." And then things got crazy.
She suggested they go somewhere more comfortable — the Cosmopolitan Hotel in TriBeCa. They took a cab and the woman had the driver stop at a CVS, where she used his credit card to buy a $500 gift card and a box of condoms. Kaiser, who is not married, told cops that only then did he realize she was a hooker, but he carried on with the date anyway, sources said. He told The Post he started feeling woozy around the same time.

"Whatever she drugged me with, it took effect very quickly," Kaiser said.
When he awoke, his jewels and date were gone, along with his passport, watch, and sunglasses. (His wallet was still there.) Of course, his first thought was the Post-ready, "'I've been screwed.'" The police say hotel security footage shows the woman, clad in the distinctive short black dress of her profession, clearly "running down a hallway carrying his briefcase and her shoes."
Kaiser says he "promises" not to press charges if she drops the diamonds over at the 1st Precinct. (Or any precinct, we assume.) "She probably doesn't even know what she took," he told the paper. Well, if she somehow didn't before, she certainly does now.