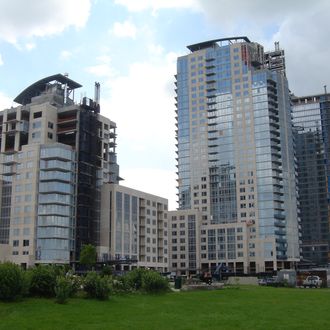 Photo: Robert Reichenbach
Remember how annoyed old-school Williamsburgers were by all the post-grad kids moving into their neighborhood, being loud and raising rents? Then remember how angry all the artsy twentysomethings were about the news that pricy new condos were taking over the rezoned waterfront, pricing them out in turn? Well, those condo owners are now officially part of the neighborhood: It's their turn to complain about a transplanted Manhattan aesthetic ruining the local charms. According to the Brooklyn Paper, condo residents are up in arms about a planned nightclub on North First between Kent and Wythe that, it's true, doesn't exactly sound subtle.
Alexander Dimitrov hopes to transform a warehouse near the waterfront into a phantasmagoric play-scape complete with vertical French gardens, an enormous rooftop patio, and enough room for 300 people to party until 4 am on weekends. […]

About 50 Northside residents lambasted Dimitrov at a key Community Board 1 committee meeting last week, ridiculing his plan as extravagant and mocking the decor and amenities at his Meh-hattan club, Mehanata, which boasts a bathroom sink that looks like a woman's posterior, a fleet of party buses modeled after San Francisco cable cars, and a refrigerated "ice cage" where waiters in Russian military garb serve booze amid furniture and glassware made from ice.
Dimtrov, for his part, promises that the club's feel will fit in with that of the neighborhood. So an ironic ice cage, then?