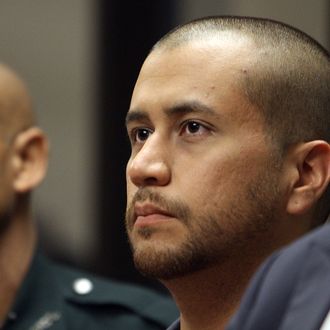 Photo: Pool/2012 Getty Images
Trayvon Martin shooter George Zimmerman made his first court appearance today, saying just "Yes sir" twice to the judge. His lawyer Mark O'Mara did not yet request bail because it might "only arouse the fervor" surrounding Zimmerman's arrest, he said. "He's tired," O'Mara added afterward. "He's facing second degree murder charges now. He's frightened. That would frighten any one of us." Zimmerman is due back in court for arraignment on May 29.
Meanwhile, the nation is split along stark racial lines about the shooting, according to a new poll.
Reuters/Ipsos found that 93 percent of the 1,922 people surveyed online are aware of the case. While 91 percent of African Americans believe Martin was unjustly killed, and 59 percent of Hispanics agree, just 35 percent of whites said they believe Martin was innocent.
Numbers like that could be a good sign for Zimmerman's defense, depending on what will surely be a fraught jury-selection process. Legal experts have already said Florida prosecutor Angela Corey might have a hard time proving the second-degree murder charge beyond a reasonable doubt, especially in light of Florida's "Stand Your Ground" law, which could even get the case thrown out before trial.
In the Reuters poll, the races agreed on at least one thing: 68 percent of people questioned said that we would never really know what happened on the night of February 26.