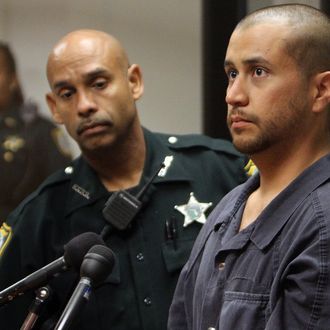 Photo: Gary Green/The Orlando Sentinel-Pool/Getty Images
Prosecutors in the killing of Trayvon Martin asked a judge today to increase George Zimmerman's bail in light of the revelation that he raised $204,000 in online donations. "I'm not going to make a snap decision," said Florida Judge Kenneth Lester Jr., who set Zimmerman's bond at $150,000 last week. The prosecution had proposed that Zimmerman, who is charged with second-degree murder, not be released for less than $1 million, while Zimmerman's family testified to their minimal means. Zimmerman launched a website more than two weeks ago, and was released on Monday, but not until last night did defense attorney Mark O'Mara disclose the results of Zimmerman's fund-raising efforts.
"If his testimony at the bond hearing is any indication of what is to come, then the lying has already begun," said Benjamin Crump, a lawyer for the Martin family. Asked last night if the donations would have affected Lester's bond decision, O'Mara said, "It might have." O'Mara said he found out about the money on Wednesday, and is working now to shut down the website. About $150,000 in donations remain after Zimmerman spent some on living arrangements.
At this morning's hearing, Lester also denied prosecutors' request for a media gag order on Zimmerman's attorneys. "I've been very careful," said O'Mara, who told Anderson Cooper about the donations on-air last night. Today in court, he called his client's case the "most significant media event in the country."