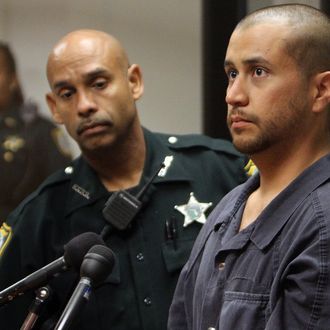 Bail posted.
Photo: Gary Green/The Orlando Sentinel-Pool/Getty Images
George Zimmerman, awaiting trial on a second-degree murder charge for the shooting death of 17-year-old Trayvon Martin, was released from a Florida county jail late Sunday night on $150,000 bail.
Zimmerman's bond was set at $150,000 on Friday by Judge Kenneth Lester. The Associated Press reports on Zimmerman's release: "The neighborhood watch volunteer was wearing a brown jacket and blue jeans and carrying a paper bag. He met a man in a white vehicle and drove away. His ultimate destination is being kept secret for his safety and it could be outside Florida."
Conditions of Zimmerman's release include a curfew, the prohibition of any contact with Martin's family, and a mandate that he wear an electronic monitoring device. The curfew stipulates that Zimmerman must stay home from 7 p.m. until 6 a.m. and requires him to check in with authorities every three days; Zimmerman was also forced to surrender his passport to the court. In addition, Judge Lester forbade Zimmerman access to alcohol or firearms.

At the hearing on Friday, Zimmerman's attorney Mark O'Mara said that his client wouldn't be released for several days as it would take time to arrange financing for the bond and to find a secure location for Zimmerman, who has received death threats. Zimmerman put up 10 percent of the bail, or $15,000, to secure his release. "His father had indicated he might take out a second mortgage," reports the AP.
Zimmerman's family members, including his wife Shellie, reportedly told Judge Lester on Friday that they would closely monitor his whereabouts and notify the authorities if they lost contact with him for any reason before the pending trial.
"Zimmerman posted bond and was fitted with an electronic monitoring device prior to release," the Seminole County Sheriff's Office said in a statement.