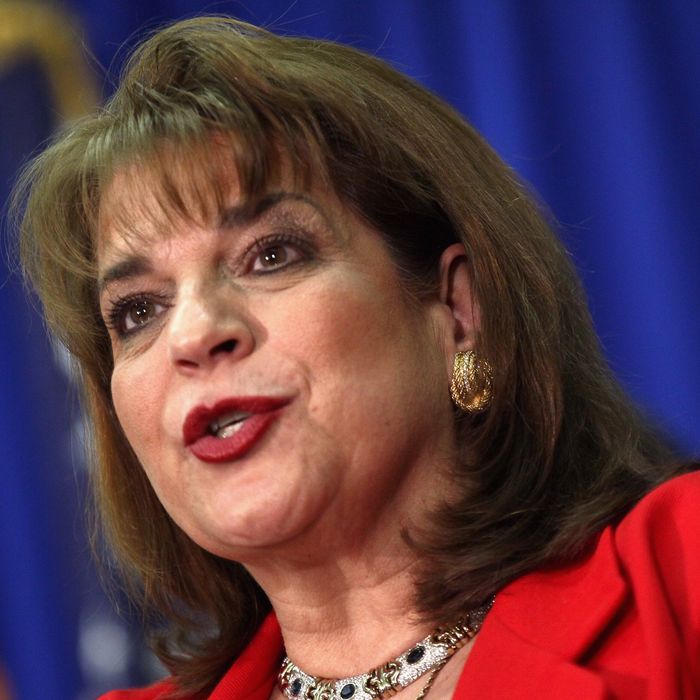 Photo: Win McNamee/2012 Getty Images
Florida special prosecutor Angela Corey announced in a dramatic press conference on Wednesday that George Zimmerman will be charged with second-degree murder in the politically charged shooting of Trayvon Martin. "We did not come to this decision lightly," Corey emphasized. "We do not prosecute by public pressure or petition." Zimmerman, who was dropped as a client yesterday by his former legal team, surrendered voluntarily to the police and is in custody at an undisclosed location. No bail has been set.
Zimmerman has retained a new legal team for what's sure to be a protracted legal battle. Thanks to the state's much-discussed Stand Your Ground rule, the second-degree murder charge could be especially difficult to prove without an eyewitness. Corey emphasized that her office has fought the Stand Your Ground law plenty of times. The witness list won't be released until the defense requests access; Corey noted that there have been too many leaks already. "So much information got released on this case that should never have been released," she said, adding that the publicity surrounding the case — which has become a flash point for a national discussion on racial profiling — will make finding a jury difficult. "There is a reason cases are tried in a court of law and not the media," she said. And yet, thanks to Florida's Sunshine Laws, the trial will be shown on television.
Corey,  who made a striking impression with an in-command performance that laid claim to the moral high ground, said she would pursue "the search for justice for Trayvon," and bristled at the suggestion that it had taken an extraordinarily long time to charge Zimmerman. "Remember, the prosecutor's burden is proof beyond a reasonable doubt, " she said. "Those of us in law enforcement are committed to justice for every race, every gender … We only know one category, it's a V … for victim." The Department of Justice is conducting a separate investigation, and Corey said that state and federal officials are sharing information as needed.
Details will have to come out in "an excruciating manner," she continued, for justice to be served. "It is Travyon's family who are our constitutional victims," she said. Earlier on Wednesday, she told the assembled press that the first thing she had done upon meeting his family was to pray with them. 
On Wednesday night, Zimmerman was escorted by police to Seminole County Criminal Justice Center. A bond hearing may be held on Thursday, according to Zimmerman's attorney, Mark O'Mara, who said he expects his client to plead not guilty.
"I think (Zimmerman) is troubled by the fact the state decided to charge him," O'Mara told reporters Wednesday evening. "I think anyone charged with second-degree murder would be scared."
This post has been updated throughout.