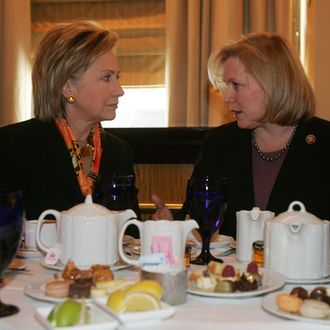 Gillz and Hillz.
Photo: Hiroko Masuike/Getty Images
New York Senator Kirsten Gillibrand recently declared herself one of many people who hope Hillary Clinton gives a presidential run another go in 2016. And last night in an interview on NY1, she reiterated that she thinks Clinton is "so well poised in my view to really be such an amazingly strong candidate for president in 2016." But what about the wildly popular and successful Andrew Cuomo, who is presumed to be interested in a 2016 run? Gillibrand seemed to think (hope?) that she won't have to choose between her mentor and her governor:
"Well, Governor Cuomo is doing an outstanding job as our governor, and I have extraordinary respect for him, and he's doing a wonderful job, but I know he's 100 percent focused on being governor," she answered.

Pressed again on whether she thinks Mr. Cuomo won't run, she repeated, "Well, he's certainly talented enough, but I know with everything he's said to date, he's really just focused on being the best governor he can be."
Cuomo's first term ends on December 31, 2014, a full year before the start of the 2016 primaries.