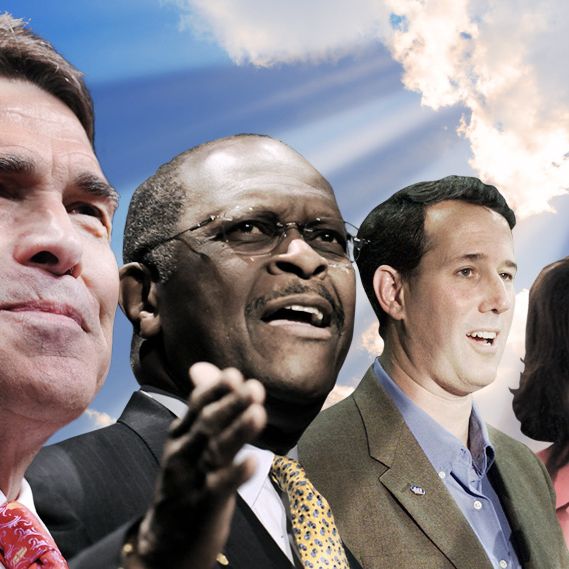 The God Squad: Rick Perry, Herman Cain, Rick Santorum, and Michele Bachmann.
Photo: Photo credits: Perry: Mandel Ngan/AFP/Getty Images, Cain:Steve Pope/Getty; Santorum: Jeff Fusco/Getty Images; Bachmann: Darren McCollester/Getty Images; sky: iStockphoto
The end — sorry, um, suspension — of Rick Santorum's presidential campaign is a major milestone in the primary race, clearing the way, as it does, for Mitt Romney to cruise here on out to the nomination essentially unchallenged. But Santorum's withdrawal is also a major milestone for God, the beloved all-powerful deity whose personal endorsement somehow failed to secure the nomination for any of the numerous Republicans — Santorum, Herman Cain, Michele Bachmann, and Rick Perry — whom he reportedly encouraged to run for president. It is unclear at this point whether God will even bother to offer anyone his apparently useless endorsement in the general election.