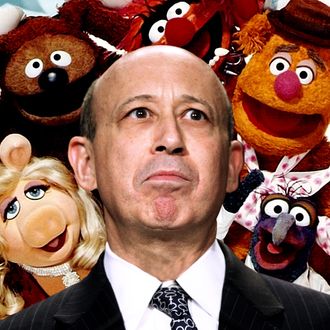 Muppets of all colors.
Photo: Photos: Chris Kleponis/AFP/Getty Images, The Jim Henson Company
Public pension funds in New York City have convinced Goldman Sachs and MetLife to release demographic information about their employees annually, starting later this year. The funds, which have large stakes in both companies, are being represented by comptroller John Liu, who explained, "Studies have shown the benefits of a diverse work force on company performance and long-term shareowner value, and many companies say they are making serious efforts to recruit, retain and promote women and minorities." But hopes are not high, the Times reports:
In focusing on Wall Street firms, the pension funds cited federal data that showed that white men held 64 percent of the management-level jobs in the financial-services industry, while minorities held less than 10 percent of them. Those numbers did not change significantly during the 15-year period from 1993 to 2008, the United States Government Accountability Office found.
New Goldman Sachs spokesman Jake Siewert said preemptively, "We believe that Goldman has made significant strides on improving the diversity of our work force, and we are committed to doing even better going forward. Transparency will help external stakeholders make their own judgments about how well we are doing on that commitment." MetLife added, "A diverse and inclusive work force has been an ongoing focus for MetLife, and we have made steady progress over the years. At the same time, we are continuing to make additional strides to promote diversity."
Just give them a little more time, okay?