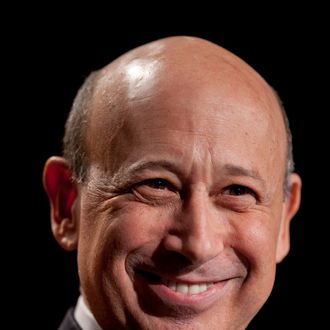 Good press, happy boss.
Photo: Bloomberg/2011 Bloomberg
Following a loud exit from Goldman Sachs by New York Times op-ed writer and future author Greg Smith, schadenfreude-hungry observers of the company will be happy to learn that public resignation announcements are now a thing. On the other hand, the latest, as noticed by the Times' DealBook, is a feel-good story with a happy ending:
I grew up in Colorado where my dad worked as a Taxi Cab driver and my mom stayed at home to take care of my sister and I. I got into the University of Colorado, but unfortunately after a semester my dad told me that he was no longer able to pay for the tuition/expenses, so in order to stay in school I decided to join the Colorado Air Force National Guard for a six year contract in return for which they would help me pay for school. With all of the activations and full time service that the guard asked of me, it took me five and a half years to graduate, but to my luck Goldman came to recruit for their Salt Lake City office for the first time at Colorado. I went to the interviews thinking that this will be a long shot, but after 2 campus interviews followed by a superday in Salt Lake, I was one of two people from CU to join as full time employees in the operations division in Salt Lake.
The poster, "trailmix8," put his account on Wall Street Oasis, and announced he would be attending business school after taking a little bit of time off. He's also a licensed pilot and coached high-school hockey in his spare time. He has no dirt to share:
Unlike Greg Smith, I actually enjoyed my time at GS, I really did feel that everything we did that I was a part of was always done with the client as the primary focus and that the teamwork and hard work ethic was always a strong part of the firm culture.
One commenter got to the point and asked, "So how much money did you make?" to which the writer replied politely, "[I]n SLC I made a lot just because the cost of living there is non existent. Here in NY though was a lot tougher to save after all the restaurants, bar/clubs, and everything else that comes with living in the city." Measured, humble — someone get this guy on a brochure.