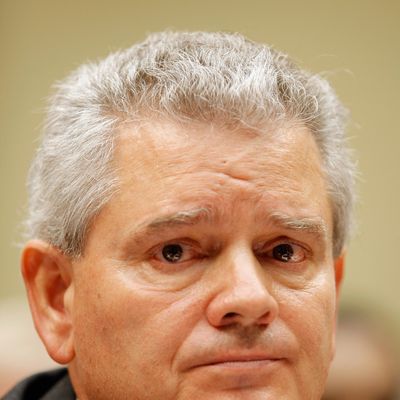 Photo: Chip Somodevilla/Getty Images
Congressional hearings continue today, in order to leave no humiliating detail unreported in the investigation of the government's high-rolling General Services Administration, which spent more than $820,000 on a four-day conference in Las Vegas. Despite GSA official/party-planner Jeff Neely's refusal to testify, we've already learned all about the clown, mind reader, and cheese plates at the lavish long weekend, not to mention the pre-conference planning trips and various other getaways he took on the taxpayers' many dimes.
In February, Neely's bosses already knew about suspected spending abuses, but he went on to Hawaii, Guam and Saipan for seventeen days anyway. "It's yo birfday … We gonna pawty like iz yo birfday!" his wife wrote him beforehand via e-mail. 50 Cent is probably mortified.
Earlier this month, the GSA released an internal report condemning the 2010 conference and other agency spending as "excessive, wasteful and in some cases impermissible." GSA chief Martha Johnson resigned and admitted, "Taxpayer dollars were squandered." Inspector General Brian Miller has requested that the Justice Department investigate and noted, "Every time we turned over a stone, we found 50 more with all kinds of things crawling out."
One such stone is the Google+ account of Neely's wife, which includes pictures of the government official in the bathtub and in front of the mirror at the M Resort Spa & Casino, "during one of the eight scouting and off-site pre-conference meetings to prepare for the October 2010 conference." The government reportedly got those rooms at a discount.