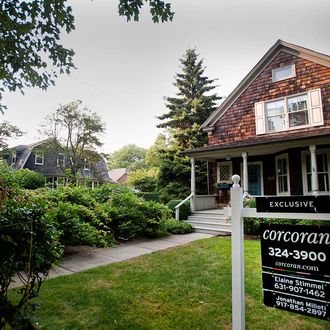 Photo: Bloomberg/2011 Bloomberg
The Hamptons has become the land of bread-and-butter buyers, who appear to be returning to the market in search of deals. Both the under-$1 million and the $1 million-to-$2.499 million segments saw huge bumps in activity, according to first-quarter reports released today by brokerage firm Brown Harris Stevens.
Sales for the former rose from 130 from January to March 2011 to 172 during the same period this year; in the $1 million-to-$2.499 million segment, 49 to 66. But that flurry of activity didn't translate to big price spikes: The median price for properties priced less than a million fell from $557,500 to $506,250; the $1 million-to-$2.499 million segment edged up from $1.55 million to $1.6 million. (Overall, the median price in the South Fork rose 5 percent to $815,000.)
Perhaps the lack of a huge payoff is why sellers are balking at putting their properties up for sale? Prudential Douglas Elliman's survey shows 10.5 percent fewer properties available in the Hamptons and a befuddling 33.4 percent fewer in the North Fork. "Home sellers are more cautious about entering the market," writes Jonathan Miller, who prepared the Elliman data. It's taking longer to unload a listing, too: In the Hamptons, expect 177 days to find a buyer (up from 167 last year), and 199 days (from 168) in the North Fork.
More observations:
• The median price of a North Fork property is now $418,500, according to Elliman, 3.2 percent less than 2011's stats.
• East Hampton Village is doing just fine, thank you very much. Corcoran saw transactions there go up by 31 percent from last year, the median price climb 17 percent to $3.4 million, and the average price rise 35 percent to $4.13 million.
• There were no transactions over $4 million in Sag Harbor, and prices dove 14 percent, per Brown Harris Stevens. But don't unpack that little violin just yet: 10 percent more properties closed in the first quarter of this year compared to the same period in 2011.
• The Village of Southampton saw a major drop in prices, according to the Corcoran Group. The median price there is now $1.1 million, down from last year's $2.31 million. That said, the number of deals there is up 19 percent.
• Montauk saw its median price swing up by a whopping 38 percent to $945,000, with a 4 percent dip in transactions.
• In unassuming Greenport, sales increased by 500(!) percent. Then again, we're talking a shift from two properties sold in the first quarter of 2011 to twelve this year. Still, a win is a win.