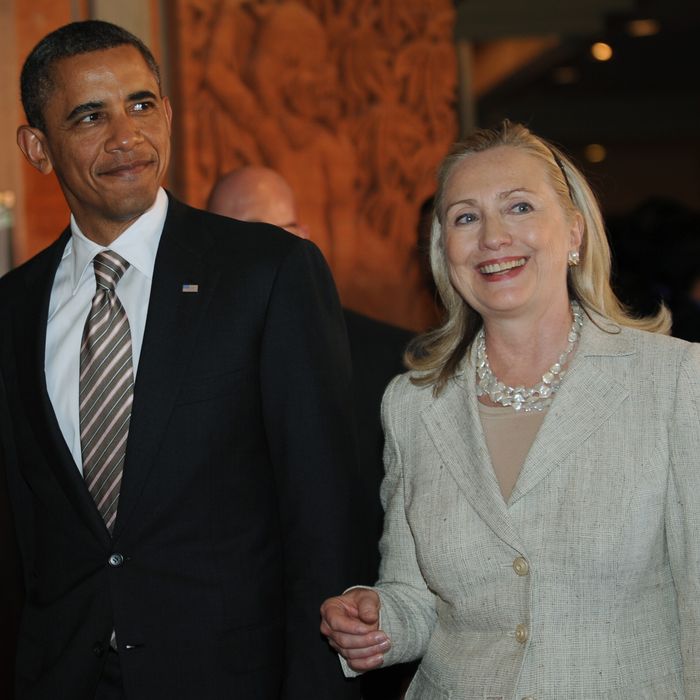 Clinton veep in 2012? Or maybe Clinton prez in 2016?
Photo: SONNY TUMBELAKA/AFP
Secretary of State Hillary Clinton may be a little late to the recent Sandra Fluke brouhaha (only now did she call Rush Limbaugh out for his sexist "verbal assault"), but her high approval ratings and long history of pushing health care and women's rights in the face of stiff GOP resistance were always going to be pluses for President Obama on the campaign trail. Except Clinton won't be appearing on the campaign trail. Senior administration officials apparently want to avoid politicizing her role too much. After all, she will still be representing the United States overseas through to the general election in November — though not a day longer, if she gets her way.
In the meantime, though, little murmurings are still keeping alive that much-rumored but equally ephemeral possibility of a 2016 run, which Clinton adamantly maintains is out of the question. Kirsten Gillibrand, who took over Clinton's former Senate seat, recently told Buzzfeed that she'd be "one of the first to ask Hillary to run in 2016. I think she's extremely well-poised to be our next Democratic president." While husband Bill, speaking on Good Morning America, clearly wanted to keep all options on the table.
I believe that she's being absolutely honest with you when she says she doesn't think she'll go back into politics. But if she comes home and we do this foundation stuff for the rest of our lives, I'll be happy; if she changes her mind and decides to run, I'll be happy.
Already onboard is House Minority Leader Nancy Pelosi, according to PBS's Jeff Greenfield, and even political heavyweight Donald Trump has weighed in, calling Clinton a "terrific woman" and wagering that, "assuming she is healthy, which I hope she will be, I think she runs after the next four years." Obama's own team are touting her as "a very strong candidate" for 2016.
But for those hoping for a Clinton bump for Obama in this election, here's some good news. First, the president already enjoys a double-digit lead among women (over both Mitt Romney and Rick Santorum), per the latest USA Today/Gallup poll. And second, there's no ruling out an Obama-Clinton ticket (at least not technically) until the night of the convention.