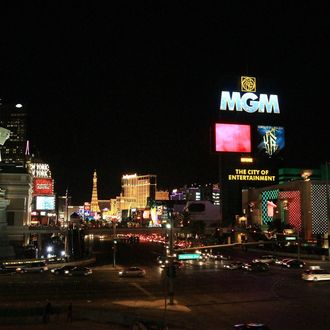 Jeff Neely, the General Services Administration official responsible for planning a now infamously fun-sounding four-day conference, does not plan to answer any questions at this Monday's House Oversight hearing on the matter. The committee is investigating how $822,000 in taxpayer money was spent on the GSA's Western Regions Conference, which took place in Las Vegas and featured a clown, a mind reader, very expensive food, and a lot of commemorative T-shirts. In a Friday letter sent to investigators, Neely's lawyer attempted to argue that, because his client intended to plead the Fifth, there was no point in dragging him all the way to Washington: 
"Requiring Mr. Neely to travel from California to appear before the Committee when you have been advised that he will not answer any substantive questions posed to him does not advance any legitimate Committee purpose," the attorney wrote, according to the documents.
Committee chairman Darrell Issa disagreed and responded with a reminder that Neely is under subpoena: "The Committee requires Mr. Neely's appearance because of, among other reasons, the possibility that he will waive or not assert the privilege as to some or all questions." Even if Neely, who will now be attending, doesn't talk, the Committee's evidence makes him look pretty irresponsible when it came to the spending of public funds:
Emails the committee obtained from Neely also indicate he reached out to what appears to be a personal friend to attend a party in a suite on the last night of the junket at the M Resort Spa & Casino. "We will get you guys a room near us and we will pick up the room tab. Could be a blast," Neely wrote, according to the documents.

"If you come we typically host a nice happy hour in my suite one night (with u and the boys as part of it). I know. I am bad. But as deb and I say often, why not enjoy it while we have it and while we can. Aint going to last forever," Neely continued, referring to his wife.
Truer now than ever, as it's being reported that Neely could also face criminal charges. The documents also show that the aforementioned Deb was very much involved in the planning of the event, suggesting that it was, in effect, "a Neely party," despite an award ceremony honoring GSA officials. As one investigator put it, "There's a lot people that say anytime Neely wants to have food, he gives out awards."