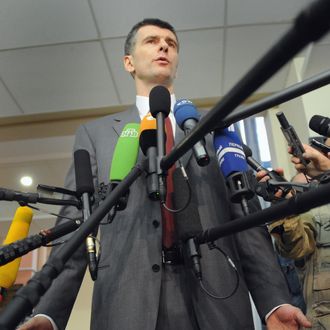 A live-action Russian billionaire.
Photo: Alexander Nemenov/AFP/Getty Images
New York's extreme-luxury real-estate boom, as exemplified by the $88 million sale of Sandy Weill's former apartment, has been driven in large part by an influx of Russian cash. An estimated $1 billion of sales over the past four years has involved Russian money, and many of the highest-profile transactions of late have involved buyers with surnames like Rybolovlev, Vavilov, and Krutoy. According to the paper, these buyers tend to overpay for Central Park views in modern buildings, apparently often at twice what they originally budgeted for. But it's impossible to tell that a guy has as many hard consonants in his name as he does billions in the bank just by looking at him, right? Or maybe not. The Times offers up some service-y tips for Russian-billionaire spotting.
They frequent the Japanese restaurant Nobu and drink at the Standard Hotel in the meatpacking district, brokers said. Many are in their 30s and 40s. They are obsessive about keeping in shape and are often seen with a series of female companions, Ms. Teplitzky said.

Some of them roll about town in customized Rolls Royces where the doors open at the opposite hinge to allow women to step out easier in heels.
You will also be able to spot them by the fact that — at least per this description — they are actual cartoons walking around live-action New York City.