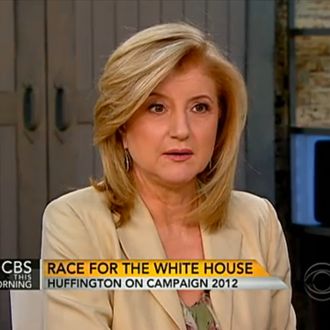 As the one-year anniversary of Osama bin Laden's death approaches, the Obama and Romney campaigns are busy politicizing the milestone in their own ways. At a press conference today, President Obama unsubtly hinted that President Mitt Romney might not have approved of the mission to capture or kill bin Laden in Pakistani territory — the third time in less than a week that the Obama campaign has made such a claim. "I assume that people meant what they said when they said it," he said. "I said that I would go after bin Laden if we had a clear shot at him and I did. If there are others who said one thing and now suggest they would do something else, I'd go ahead and let them explain."
Meanwhile, Mitt Romney is reportedly scheduled to visit a firehouse in New York City with Rudy Giuliani tomorrow, a nice backdrop for Romney's insistence that bin Laden's death should be an uplifting, unifying event, not the basis of a political attack.
As expected, the Romney campaign and its allies have been crying foul over the Obama campaign's suggestion that President Romney might not have made for a very good Osama killer. But they gained a surprise defender this morning in liberal Obama supporter Arianna Huffington, who called the claims "despicable."
"There's no way to know whether Romney would have been as decisive," Huffington said on CBS's Early Show this morning. "To actually speculate that he wouldn't be is, to me, not the way to run a campaign, on either side."
These days, in fact, Romney will tell you he'd have done the same exact thing as Obama:
Asked by a reporter during an appearance here whether he would have gone after the al-Qaida leader, Romney responded: "Of course." He was then asked if he would have given the specific order to kill bin Laden.

"Of course," he said. "Even Jimmy Carter would have given that order."
Actually, he may be right about Carter, who, after all, ordered a similar stealth raid in foreign territory in 1980. But just because Obama did it, and Carter might have done it, doesn't mean Romney would have.
During the 2008 campaign, President Obama made clear his willingness to unilaterally go after Al Qaeda in sovereign Pakistani territory if necessary. Obama's opponents, including Hillary Clinton and John McCain, cast such trigger-happiness as evidence of his inexperience and naïveté. On August 2, 2007, Mitt Romney appeared to do the same. As Reuters reported:
"I do not concur in the words of Barack Obama in a plan to enter an ally of ours … I don't think those kinds of comments help in this effort to draw more friends to our effort," Romney told reporters on the campaign trail …

Romney, the former Massachusetts governor who is one of the Republican front-runners, said U.S. troops "shouldn't be sent all over the world." He called Obama's comments "ill-timed" and "ill-considered."

"There is a war being waged by terrorists of different types and nature across the world," Romney said. "We want, as a civilized world, to participate with other nations in this civilized effort to help those nations reject the extreme with them."
In other words, Romney seemed to specifically rule out a military operation — inside Pakistan, without Pakistani approval — like the one that ultimately killed bin Laden. Romney would later emphasize that he had a problem with Obama openly declaring his intentions in public, not the intentions themselves. At best, though, it's unclear if that's the same sentiment he was expressing in his initial remarks on August 2, particularly when you consider his hesitance to send troops "all over the world."
Given the questions surrounding Romney's commitment to unilateral action inside Pakistan (not to mention the more general risk of raiding a foreign country on intelligence that was far from definitive), it seems fair to say, as the Obama campaign has done, that maybe Romney wouldn't have made the same decision as Obama. Is it the most unifying message in the world? Nope! But it's hard to see what's "despicable" about taking Romney's own words at face value.
This post has been updated throughout.