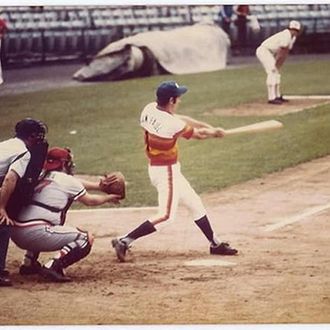 Ron Paul, former Hill softball player.
Have you always wanted to report on the inner workings of our nation's capital? To really go deep on the stories that matter? Then consider sending your resume over to Roll Call:
>
Roll Call seeks an energetic reporter/blogger for a part-time freelance position, beginning in May and ending in September, covering Capitol Hill's summer softball season for rollcall.com's new softball blog. The ideal candidate will have experience in and around the Congressional, House and/or Senate softball leagues; news reporting experience, preferably sports-related; an engaging writing style; and the flexibility to work evening hours.
Sure, any old Beltway hack can write about the important politics of the Etch A Sketch brouhaha, or write about what Cookiegate meant for Romney's favorability ratings, but the opportunity to see firsthand whether Chuck Schumer's interns staff can hit against a left-handed slow-pitch pitcher?  That means, as they tweet on the Hill, #winning. Think of the scoops! And not just from the ex-D-1 shortstop hired as a staff assistant solely for his power-hitting; we're talking about the lucky reporter, too.