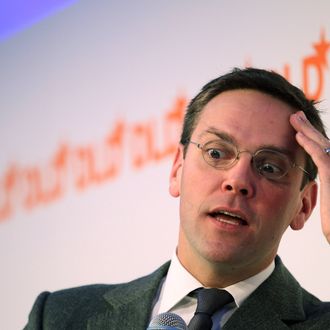 Photo: Miguel Villagran/Getty Images
Sky News is reporting that James Murdoch will quit his job (excuse us, "relinquish his position") as the chairman of BSkyB today. Murdoch has gone on something of a resigning spree recently, leaving his posts as a boardmember of Times Newspapers Holdings and executive chairman of News International in the last month. He will remain on the BSkyB board and Nicholas Ferguson, deputy chairman of the company, is expected to take over, the Times reports.
News Corp. owns 39 percent of BSkyB, England's main pay-TV company, which has proved to be a major cash cow. News Corp. was forced to drop its $12 billion bid to take over the whole company in the wake of this summer's phone-hacking scandal. This resignation has particular sting for the younger Murdoch, who is known to prefer the television side of his father's massive media corporation.
BBC reports that it was Murdoch's choice to resign in order to avoid more criticism. The resignation will be officially announced this afternoon.
NPR's David Folkenfilk reports that the resignation comes "days before expected release of MPs report" which may cast doubt on Murdoch's testimony.