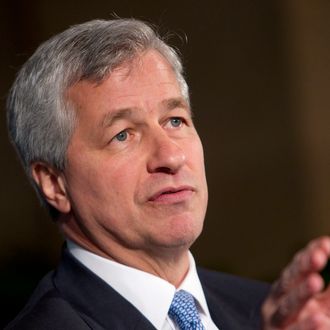 Don't stop … till you get enough?
Photo: Bloomberg/2011 Bloomberg
Jamie Dimon might have piercing blue eyes and unshakable confidence in himself, but that set of qualities can only take one so far in life. For instance, it can lead a man to the dance floor, but it can't make him succeed once there. Last night at a gala for the JPMorgan-endowed Ballet Hispanico, Mrs. Dimon offered an honest assessment of her husband's rhythmic stylings: "a terrible dancer," quoth Judy.
She then moved her shoulders straight up and down to demonstrate what the 56-year-old leader of the biggest U.S. bank, with $2.27 trillion of assets at year-end, does on the dance floor.

Jamie Dimon's mom, Themis Dimon, was no more encouraging.

Is he a good dancer? "No," she said, shaking her head.
Dimon wasn't there to defend himself because of an unspecified commitment, according to his wife, who took to the dance floor for what sounds like a successful salsa with New York Giant Victor Cruz. Maybe that commitment was Monday night dance lessons at the Taj Lounge?