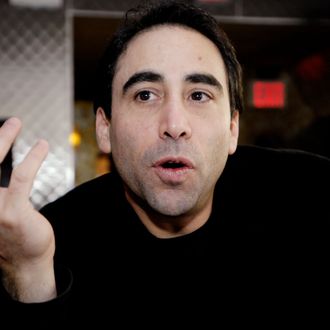 Photo: Andrew Savulich/NY Daily News Archive via Getty Images
Jason Itzler, the incredible egotist founder of escort-agency NY Confidential (and a classic New York subject), is continuing his overblown quest for fame and fortune: His latest court case could become a spectacle and thus, part of a movie. According to prosecutors, via the New York Times, Itzler and his enabling lawyer "plan to stage-manage his trial … to increase the box office potential of a film in the works about Mr. Itzler's life." And plea deals are just so dull.
Itzler pleaded guilty in 2006 to money laundering and attempted promotion of prostitution, but was arrested again last year — and delivered another load of fascinating B.S. — for the same charges, plus selling cocaine.
Now prosecutors say that Itzler has a tentative deal with Polsky Films and has offered his attorney Mark Jay Heller, who also represented the Son of Sam and Manhattan Madam Kristin Davis, a $420,000 retainer if the movie goes through.
In December, Mr. Heller colorfully rejected a plea offer in court. "The King of All Pimps does not plan to abdicate his throne by taking a 5-to-10-year timeout in jail," he said. "Hundreds of fun-seeking male clients are anxious to resume enjoying the girlfriend experience that Jason has famously provided in a law-abiding manner."
And scene. Someone wants a cameo.