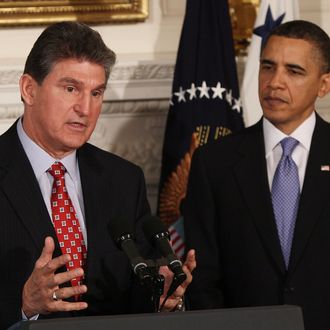 West Virginia Governor Joe Manchin (L) speaks as U.S. President Barack Obama listens during meeting with state governors at the White House on February 22, 2010 in Washington, DC. President Obama urged states to better prepare high school students for college and careers. The governors are in town for the annual National Governors Association meeting.
Photo: Mark Wilson/Getty Images
On the one hand, this is definitely unusual, since office-holding Democrats tend to support their own party's nominee. But, then again, Manchin is up for reelection this year in West Virginia, a place where the people refer to the president as "Barack Hussein Obamer," probably. He doesn't have a lot to gain from being a gung-ho Obama supporter. Also, this is the guy who literally shot cap and trade in an ad last year, with a gun. This should not be unexpected.