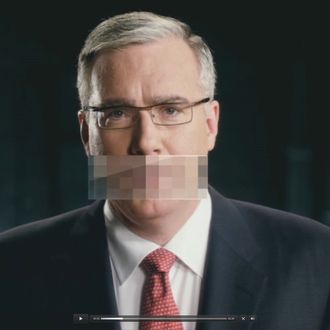 Jimmy Kimmel said some pretty mean things about Keith Olbermann's absence at last night's White House Correspondents' Dinner. First, he instructed attendees to check under their seats for the recently ousted Current TV host's résumé before asking, "Is Keith here tonight?" (No, he wasn't.)  And he did not stop there. 
"Limo wouldn't pick him up? The thing about Keith Olbermann is he's so likable."

"Al Gore launched Current TV in 2005 and it took off like a North Korean rocket," Kimmel continued. "To be honest, I didn't even know Current TV was still on the air, but then I don't get channel a million."

"Keith Olbermann burned more bridges than the Arsonist of Madison County," he said. "He has more pink slips than Marcus Bachmann."
Olbermann, who apparently spent the evening thinking about baseball, reacted to the barbs via his preferred method of communication: Twitter. After explaining that he had not "voluntarily" attended the event since 1998,  he wrote, "Funny that Jimmy Kimmel ripped me after his people desperately wanted me to fly to LA to be on his show this past Wednesday." Later, he added, "I'm not complaining about the Kimmel jokes — I'm fair game. I'm complaining about the revenge element. It reminds me of O'Reilly." Honestly, we kind of hope the "revenge" explanation is true — otherwise, we might find ourselves in the confusing position of feeling kind of bad for Keith Olbermann.