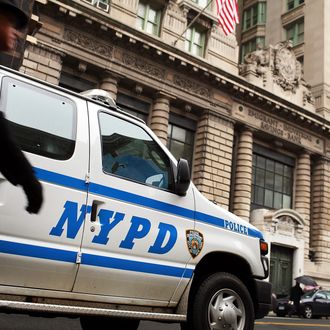 Photo: Spencer Platt/2012 Getty Images
Sixty-three-year-old La Guardia High School English teacher and author Karyn Kay was beaten to death in her West 55th Street apartment on Tuesday morning, apparently by her 19-year-old son who was taken away from the scene in handcuffs.
Cops responded Tuesday morning to a frantic call by Kay, during which she reportedly told the operator that her son was having a seizure. Authorities found her unconscious when they arrived at her tenth-floor Hell's Kitchen apartment around 9:30 a.m. She later died at Cornell Hospital as a result of severe head trauma.
Police sources told the New York Daily News that Kay's 19-year-old son, who was "extremely upset, wailing and crying," was taken into custody and was being questioned by police Tuesday night.
DNA Info reports that, "the victim had called 911 to ask for help with her son's seizure when he allegedly attacked her."
At the time of this writing, the son has not been charged.
"She cared so much about her students, even students who were cruel to her and resistant to work," one former Kay student said of her beloved teacher. "She really believed that no matter who we were, we were smart and had something to say. She really believed in all of us."