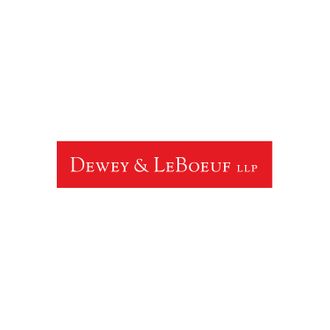 Dewey & LeBoeuf, a giant New York–based corporate-law firm with offices in D.C., London, Moscow, Beijing, and Hong Kong (to name a very few), currently owes $75 million to a group of lenders, and is reportedly teetering on the edge of collapse (or at least dissolution). The firm, which employs about 950 lawyers, has been having an incredibly rough few months as it's struggled to deal with an "embarrassing exodus" of nearly 70 partners to rival operations — a reaction to, among other things, the slashing of once-record salary guarantees after years of less-than-stellar financial performance. In addition to the obvious problems that come with any employee hemorrhage, the departures could put the firm in a particularly bad position when it comes to its debts, which are apparently legion.
Dewey's precipitous decline in its partnership ranks could trigger a covenant breach that would allow its lenders, led by Citigroup and JPMorgan Chase, to demand repayment. The Citigroup executive in charge of the Dewey relationship has issued a statement of support for Dewey; a JPMorgan spokesman declined to comment.
Management has said that the covenants, which require firms to maintain certain headcounts and levels of income, have not been breached. However, according to The Wall Street Journal, that doesn't mean the banks are going to sit back and hope things work themselves out:
Firm leaders have until the end of the month to negotiate extending a $100 million revolving credit line with lenders. J.P. Morgan Chaseis the lead agent; the other lenders are Citi Private Bank, Bank of America Corp. and HSBC Holdings PLC.
Sources say Dewey is considering a "prepackaged" bankruptcy, which would allow them to work out a reorganization plan with creditors while combining with another firm. Dealbook notes that, while suitors might have a lot to gain by taking on Dewey — which is still home to a slew of "rainmaking" lawyers and highly regarded merger and acquisitions and (sort of ironically) bankruptcy groups — such an influx could also be "complicated" and "potentially alienating" to an organization's existing ranks.
Meanwhile, all this upheaval is making for a pretty negative work environment, which means more exits are likely. According to Above the Law, which has been somewhat gleefully chronicling these developments for a while, the office has given up fancy law-firm basics like FedEx and car services. But, in an e-mail to the blog posted earlier today, one Dewey paralegal wrote that focusing on town-car-related Schadenfreude is missing the point of the whole mess:
Naturally, I bow down at the altar of the almighty lawyer but here is a short list of some others who will find themselves on the unemployment line: secretaries, paralegals, copy center, mail room, records department, maintenance, IT, cafeteria and catering, librarians etc. I hope the joviality was worth it as it will be needed when they are standing behind me on the breadline begging Please, sir, I want some more.
Dramatic! But also not untrue.