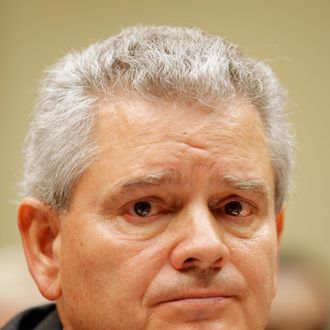 Jeff Neely, the GSA official responsible for the $820,000 bash.
Photo: Chip Somodevilla/Getty Images
According to David Axelrod, who appeared on NBC's Meet the Press this morning, President Obama is "apoplectic" over the the ongoing investigation into the General Services Administration's elaborate 2010 conference in Vegas, which has caused something of problem for the administration. Whether he's apoplectic on principle or because $820,000 in taxpayer money spent on mind-readers and sushi is exactly the kind of headache one doesn't need in an election year is unclear, but those with an ax to grind are certainly underscoring the latter issue. 
Political free agent Joe Lieberman took to CBS's Face the Nation to call the situation "really outrageous — for me, sickening" as he pointed out eight party "planning" trips that cost taxpayers (almost) $150,000. And though he did say that this "doesn't represent what I know to be most people who work for the federal government," he still placed the blame squarely on President Obama's shoulders. In his opinion, it's "fair to hold a president accountable" when the federal government misbehaves.