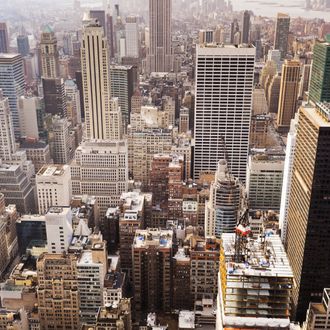 Photo: Cristian Baitg/Copyright Cristian Baitg
City real-estate firms have released their market reports for the first three months of the year, and depending on who's crunching the numbers, business appears to be steady — and may be even set to take off.
Appraiser Jonathan Miller's report for Prudential Douglas Elliman sees a market that continues to be stable but with some mixed signals. Inventory was consistent at 7,560 listings compared to 7,605 in the first quarter of 2011. The median sales price of a Manhattan apartment slipped slightly from $782,071 last year to $775,000 this year. Apartments are lingering longer on the market, too: In 2011, it took 127 days to sell one; this year, 152 days. More starter apartments (studios and one-bedrooms) sold this time around; they composed 56.2 percent of market share compared to 49.4 percent in 2011.
The Corcoran Group's survey strikes a cheerier tone, declaring in an e-mail that the market "is not in recovery, it's ready to run a marathon." Thanks to low inventory, demand continues to outstrip supply, with bidding wars present in all price segments. Per their numbers, there were 60 percent more closings this quarter than the same time in 2009, the gloomy post–Lehman moment for the market.
According to the Brown Harris Stevens and Halstead Property reports, the quarter saw a 42 percent increase in transactions in the $10 million-and-above price bracket — including the sale of Sandy Weill's $88 million manse at 15 Central Park West — which lifted the market's overall average asking price by 9 percent to $1,483,591. The median price rose 4 percent to $821,500.
So, what do the next three months hold? The answer may lie in the number of apartments that have gone into contract these last months. Database firm Streeteasy.com, which saw median prices remain unchanged from 2011 to 2012 and transactions up by 9.4 percent, gave a peek of things to come, and the future looks to be bright. Per their numbers, 8.9 percent more apartments found buyers in the first quarter of 2012 compared to the same time in 2011 (2,621 deals versus 2,123). Of course, those numbers may not hold. The firm also found more broken contracts this quarter — 167 compared to 137 in 2011.