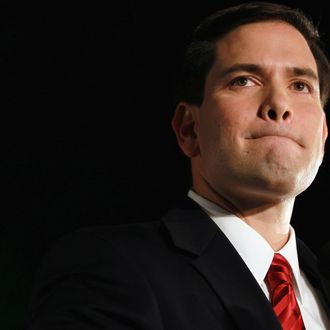 Senator Marco Rubio. (Joe Raedle/Getty Images)
Photo: Joe Raedle/Getty Images
Though Florida senator Marco Rubio has made it pretty clear that he "doesn't want to be the vice present right now, or maybe ever" — in fact, he just doesn't want to talk about it at all! — he remains at the top of every pundit's short list for Romney's number two. But, as one nymag.com commenter kindly pointed out in our inaugural Sherm-O-Meter post, Rubio's closet isn't exactly skeleton-free. The latest bag of bones: fund-raising irregularities in his 2010 Senate run. 
Yesterday, the Federal Election Commission announced it was fining Rubio $8,000 over more than $200,000 in improper contributions to his 2010 campaign. While only about one percent of his impressive total haul, Rubio's campaign accepted excessive contributions from over 100 individuals, two corporate contributions (which are illegal), and also some $26,000 for his primary election after the primary had taken place.  
Rubio's also in some trouble over the CardGate scandal, in which top Florida Republican officials (including Rubio) used party credit cards for personal expenses. Former party chairman Jim Greer, set to go on trial this July, has promised (or threatened) to implicate "current and former elected officials, political consultants and lobbyists" who, he says, framed him to cover up their own actions. Then there's Rubio's precarious personal finances: Back in 2010, the included newly elected Rubio barely staved off foreclosure on one home while overleveraged on at least one other, all while sitting on well over $150,000 in debt. And there's always that little embellishment Rubio made to suggest his parents had fled Fidel Castro's revolution, which will not be ignored by the makers of Democratic attack ads. 
But is yesterday's news enough to disqualify Rubio from the Veepstakes? Probably not. That said, Romney's vetting process will surely be designed to avoid a repeat of John McCain's 2008 Big Mistake. (Must we even say her name?)