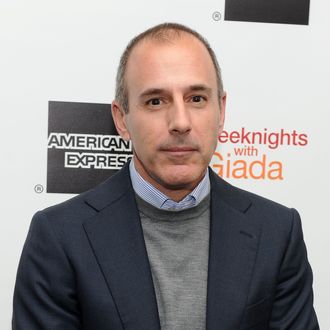 Paid.
Photo: Jason Kempin/2012 Getty Images
After months of negotiations and speculation that Matt Lauer might leave NBC's morning show Today, the peacock announced that the co-anchor will be sticking around for the modest sum of roughly $25 million a year, plus a signing bonus. That's several notches up the dial from his current $17 million salary. "Matt is the franchise, and our franchise player has decided to keep leading our team," said Steve Capus, the president of NBC News. That's a great analogy, but we prefer to think of anchors in terms of household appliances or lighting fixtures, like chandeliers, which would make Lauer … a Dyson vacuum cleaner?
"This is my family. I love working here," Lauer announced Friday morning on Today. "I'm excited. Let's keep going." Capus is thrilled as well — last night, at a party hosted by Arianna Huffington, he was reportedly telling his friends about the deal.
As Gabriel Sherman wrote in New York recently, the NBC News division is feeling some ratings heat from its competitors, which may have given Lauer a leg up in negotiations. Today is still the morning show industry leader, but ABC's Good Morning America has been gaining, and no one has quite been able to fill Katie Couric's shoes since she left in 2006. Lauer's current co-host, Ann Curry, definitely won't get a Lauer-sized contract when hers is up at the end of the year, if she's offered one at all.
Lauer has been with the show since 1994, and while the network recently brought on Ryan Seacrest, it's not as a replacement. "What kind of conversations have you had with NBC officials about joining the Today show?" Lauer asked Seacrest on the show this week. "Oh, they didn't tell you?" the American Idol host joked. Not so fast, Seacrest.
Related: Matt Lauer's Impact on NBC News' Ratings [NYM]
This post has been updated throughout.