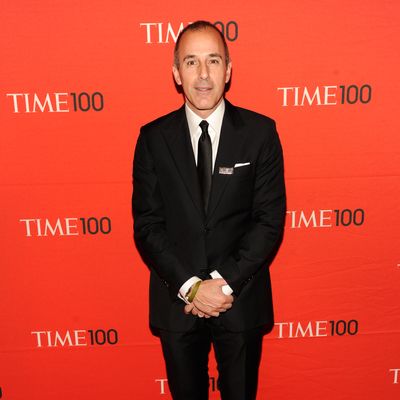 Matt Lauer.
Photo: Kevin Mazur/Kevin Mazur
Time may have honored Matt Lauer as one of its 100 Most Influential People this year, but at last night's gala, it sounded like he didn't really think he deserved to make the list. (And despite Howard Stern's effusive praise!) It went down like this: We brought up the Internet meme, Texts From Hillary, which features imagined texts between Secretary of State Hillary Clinton (the night's keynote speaker) and famous types. If Hillz was texting him right now, what would it say?
"She's sending me a text that says, 'Are you seriously on this list?' I'm sure. I don't take it very seriously. I can think of a thousand people who deserve to be on this list more than I do. I could go country by country. But you know what? When Time magazine calls you, you say yes and you show up. And then you enjoy the night!" And your $25 million salary.