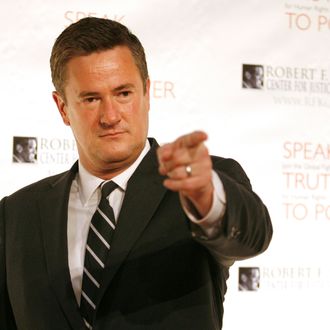 You're going to wear that?
Photo: AFP/2010 AFP
Mika Brzezinski, co-host of Morning Joe, gets the Andrew Goldman treatment in this weekend's New York Times Magazine, in which she refuses to disclose her apparently very low SAT scores. Whatever they were, she's definitely learned her way around an analogy since then: Brzeninski, who brought co-host Joe Scarborough with her to the interview, says unexpectedly of him that "He's a little bit like a gay stylist."
Joe's like a gay stylist?
Seriously. Talk to his wife or any of her friends. He has got a real side to him that knows style and look and color and hair. He's amazing. Amazing. I can't dress. I have a terrible eye.

Does Joe style your hair? 
Joe? Touch my hair? No, but he'll tell me to put it down, because I always want to make it big. [Here, Joe interjects: "It's not the '90s anymore!"]
The man has opinions!